Abstract: Nowadays, many young raise pets like dogs as their accompanies, those dogs, especially large dogs as Sammoyed need to be taken around as a kind of exercise and interaction with their masters. Fosjoas V8 self-balancing electric unicycle can help maters take their lovely pets to walk around easily and breezily.
Many young masters have such annoyance, their pets love walking or running around excitedly which is a hard task for those masters after one-day tiring work. Young masters may be off duty very late while they still need to prepare the dinner. As a result, young masters do not have too much time to walk their pets, dogs in particular. However, dogs need to walk around everyday to keep healthy and be closed to their masters. Fosjoas V8, the electric scooter, can solve this problem.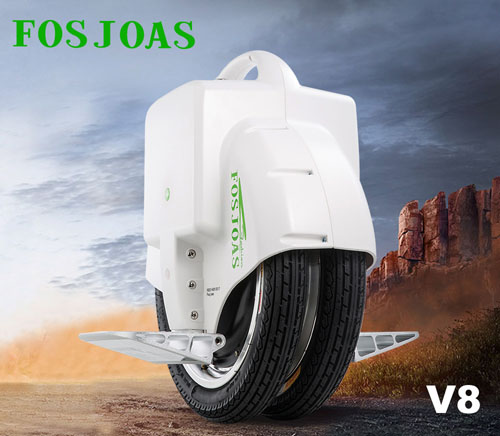 Fosjoas V8 takes up small area which can save space at home. It is convenient for riders to pick it up and ride it. The lithium battery can power the scooter with controlled speed. That is to say, users can control the speed as their wishes which can match the pace of their dogs. If their dogs are excited, they can speed up to lead dogs run fast. If dogs are tired, masters can slow down to help dogs relaxed. Fosjoas V8 also utilizes the protection mechanism which can prevent sudden turn over to protect the safety of riders. Young masters can walk their dogs without the worry that dogs turn over the self-balancing scooter which hurts the riders.
The exported lithium battery and magnetic suspension motor of Fosjoas V8 produces low noise and no air pollution. So the pets will not be frightened or be harmed by the pollution. Young masters do not worry that their dogs are afraid of Fosjoas V8 self-balancing unicycle and resist to be taken around by the electric scooter. Master can walk their dogs freely and protect the environment at the same time.
Riding Fosjoas V8 can save lots of time too since it is faster than walking or riding the bicycle. So it is the most suitable transport for those office worker with pets. Do not hesitate any more, buy a Fosjoas V8 to enjoy the happy time with lovely pets. Owning Fosjoas V8, the life with pets will be more freely and easily.